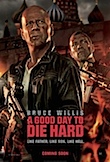 The first thing you need to understand about A Good Day to Die Hard is that it isn't really a Die Hard movie. In the same way that instant coffee and espresso coffee share a name but are in fact entirely different beverages, you'd be wise to go to a Good Day screening with modest expectations — expectations that would already have been lowered if you'd seen 2007's dismal Die Hard 4.0 (aka Live Free and Die Hard).
Bruce Willis plays Detective John McClane for the fifth time since 1988 but this time there's no smirk, no glint in his eye and none of the recognisable human frailties that made the original character so appealing. Instead, he's just what everybody always said he was — an asshole. When his son is arrested by Moscow authorities for what looks like a mob hit, McClane heads to Eastern Europe to try and save a boy he hardly knows. As usual, McClane becomes "the fly in the ointment, the monkey in the wrench" and he immediately lands in the middle of a CIA operation to extract a rebel oligarch hiding information that could bring down the government, his untimely intervention destroying most of Moscow's traffic in the process.
The son is played by buff Australian actor Jai Courtney, last seen as a villain in Jack Reacher, and I'd like to report that he's a decent actor except he's given so little to work with here, you'd never know. The plan does appear to be to hand over the franchise to the kid, thereby enabling a few more years of ever-diminishing returns as a great brand continues to tarnish.
But, if you take Die Hard off the label, does it become a decent action flick? How does it compare to the modern examples of the genre like Fast & Furious? Still not great, sadly. The first big set-piece on the streets of Moscow does a great job of crashing lots of what look like non-CGI cars but the rest is relatively witless.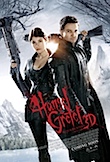 Tommy Wirkola could give Die Hard's John Moore some tips in how to make incoherent action more entertaining (hint: get a great editor). His Hansel & Gretel: Witch Hunters is another example of his ability to take a splendid single idea and execute it with energy and focus — he is probably best known here for his Nazi zombies movie Dead Snow from 2009. H&G discover they are resistant to witch spells when they survive the candy house they have been tempted into as kids (although Hansel suffers long-term diabetic complications). As adults, played by Jeremy Renner and Gemma Arterton, they parlay this ability into bounty hunting, travelling the backroads of dark ages central Europe executing witches.
I'm still not convinced by Renner as an action hero — he still seems better suited to second banana or "best mate gone bad" roles — but it's actually more Gretel's story than his and the film as a whole is big dumb bloody fun.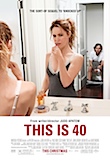 Judd Apatow's This is 40 starts off as a higher quality version of the gross sketch comedy Movie 43 from last week — sex and fart jokes abound — but evolves into quite an affecting portrait of a family struggling with life regardless that it seems to have every middle class advantage. It helps that Apatow gives his characters time to get under our skins. Leslie Mann (Mrs Apatow in real life) and Paul Rudd play Debbie and Pete, two supporting characters from the hit Knocked Up, over-extended in life and in business.
The film climaxes with Rudd's 40th birthday party — an event that has been under threat all movie — and sure enough, family frustrations boil over in an amusing but not inauthentic way. As always, John Lithgow elevates every scene he is in and the great Albert Brooks steals what's left over. I liked this a lot and I think Apatow succeeds at something that's actually pretty difficult to pull off.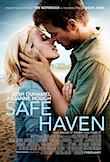 Arriving in cinemas in time for Valentine's Day, Safe Haven looks like the result of a compeition to write a Nicholas Sparks novel — mysterious stranger arrives in small southern town, strikes up relationship with local widow and things go along swimmingly until a dark secret from their past threatens the new-found happiness. The twist this time around is that the mysterious stranger is female (Julianne Hough from Rock of Ages) and the film is immeasurably improved from the usual Sparks fare by not featuring Zac Efron.
Hough plays "Katie", on the run from a Javert-like Boston cop (David Lyons) and holed-up in the sleepy North Carolina seaside town of Southport. There she meets local widower and shopkeeper Josh Duhamel and his cute kids. Even though things seem to be looking up, fate and film logic dictate that eventually she'll have to face up to her past. A couple of twists (one straightforward and one slightly batty) elevate the material and Oscar-nominee Lasse Hallström (My Life as a Dog, The Cider House Rules) directs with more respect for his audience than you might normally get in a Sparks picture. Not horrible.
Printed in Wellington's Capital Times on Wednesday 20 February, 2013.