As I sit here typing, I can hear the sounds of a Wellington summer all around me — the rain pouring on to the deck outside and the wind howling through the trees. Is this why local film distributors release so much product over the Christmas/New Year period? Perhaps it's just climate and nothing to do with the Oscars at all? Anyhow, here's a quick summary of what's been dished out at local cinemas in descending order of greatness.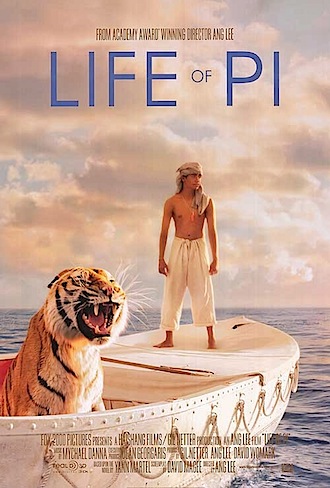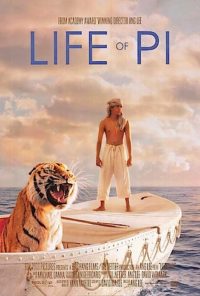 First up, Ang Lee's glowing 3D adaptation of Yann Martell's Life of Pi, storming the local box offices and deservedly so. Ravishing to look at — and making profound rather than novelty use of the extra depth available — Lee's film manages to distil the essence of the book's message even if the ambiguous ending proves less satisfying cinematically than literarily. Dreamy. I was particularly taken by the conscious recreation of the book's original cover in one scene, even to the extent of changing the film's aspect ratio for that single shot.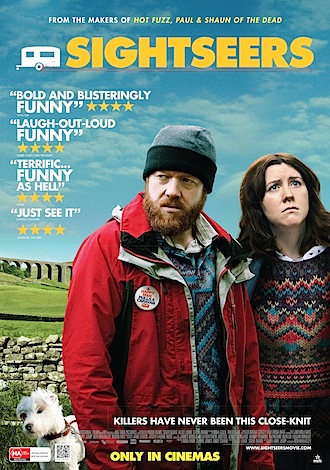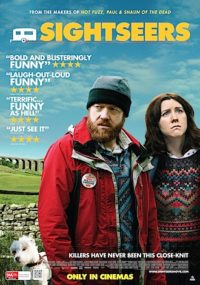 Imagine, if you will, that Mike Leigh had made Badlands instead of Terrence Malick and you have a hint of the greatness that is Ben Wheatley's Sightseers. Stifled Tina (Alice Lowe) meets ginger Chris (Steve Oram) at capoeira and they fall for each other. Soon after he takes her away from Tina's suspicious and overbearing mother (Eileen Davies) on a caravanning holiday around the unlikely tourist sites of northern England where innocence — you might say — is well and truly lost.
Often hilarious and often horrifying, Sightseers is another Wheatley spotlight on modern British alienation — his earlier Kill List featured a frustrated hitman travelling the "B" roads of England from industrial estates to salesman's hotels — but much of the credit goes here to Oram and Lowe who are credited with the largely improvised script. "He's not a person, Tina, he's a Daily Mail reader," says Steve after bludgeoning another awful example of British humanity to death with a rock. Brilliantly misanthropic.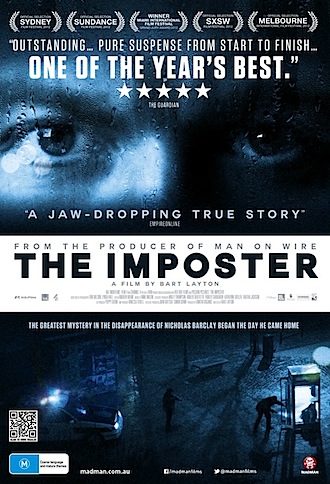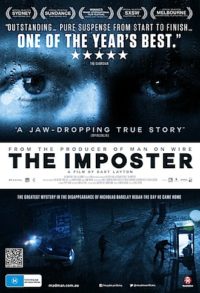 Bart Layton's documentary The Imposter belongs in the pantheon of great WTF? documentaries like Crazy Love and Deep Water, films that seem even more unbelievable the more they unspool in front of you. Sadly, Layton doesn't get the ending I'm sure he was after but the setup is amazing. A young Frenchman (Frédéric Bourdin) in trouble in Spain, pretends to be a missing Texan schoolboy and surprises even himself when the boy's family welcome him 'home' to the US with open arms.
I'm not normally a fan of recreated scenes in documentaries but Layton handles these stylishly and he skilfully builds his psychological study of a bunch of people (Bourdin, the family and even law enforcement) who so wanted their own truth that they would ignore all the evidence in front of them.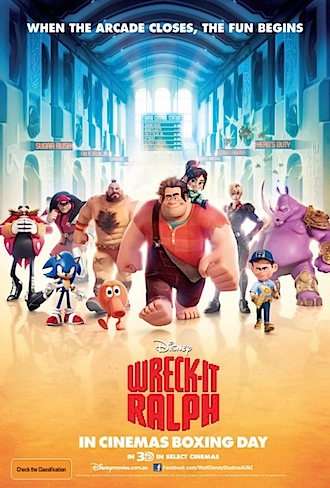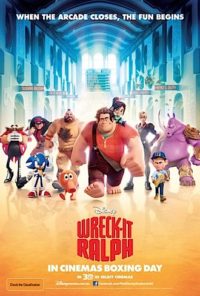 Kids of all ages will enjoy Disney's Wreck-It Ralph, an animated picture about an arcade video game character who tires of always being the bad guy. John C. Reilly's Ralph goes looking for another game in which he can be the hero for a change but he doesn't realise that he's throwing the entire arcade world out of balance and threatening everyone's future.
There's outstanding voice work from Sarah Silverman as feisty young Vanellope and kids will enjoy the exuberant visuals although adults will get nostalgic from the many old game references — not sure if kids still go to spacies parlours these days, do they?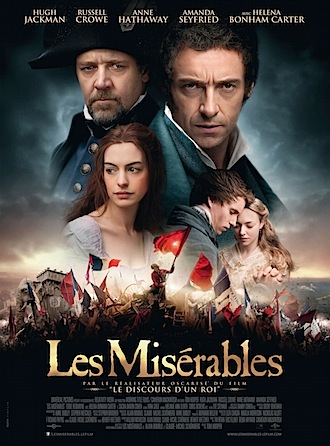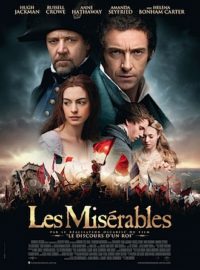 The great thing about Tom Hooper's Les Misérables is that the multiple earlier versions of Mackintosh, Boublil and Schönberg's musical all still exist either on video tape or in our memories. We still have them. But now, if we want a version that is consciously cinematic and that foregrounds character rather than staging, we have one of those too. Hooper knows that cinema punishes insincerity and so he emphasises the acting rather than the singing, trusting that the music has good enough bones to survive it and for the most part he is right.
Russell Crowe's malevolent lawman Javert doesn't have the big Broadway or operatic voice that we are used to in the role but he's totally believeable in the world that Hooper has created, and that's all that matters. If Les Mis is let down by anything, it's by some of the craft — sets look like sets when compared with some vivid locations, the poor people's makeup looks like poor people's makeup and some of the CGI looks rough around the edges. I enjoyed myself, though, but I acknowledge that it isn't everyone's cup of tea.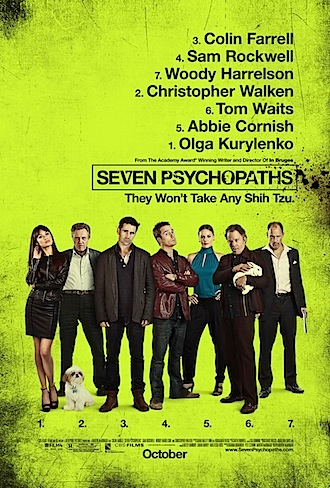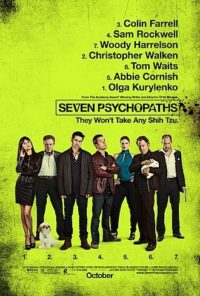 Fans of the cult hit In Bruges will be pleased to know that Martin McDonagh has finally made another film, this time about what it is like to sit around in Hollywood trying to write a script and drinking too much. Write what you know, eh? There's some deep existential philosophy gurgling around under the surface of Seven Psychopaths but you might find it hard to discover because of all the noise being made by a Tarantino-esque bunch of brilliant character actors competing for screen space.
Woody Harrelson, Tom Waits, Harry Dean Stanton, Christopher Walken and Colin Farrell all have their moments but the champion is Sam Rockwell who proves once again what a winning presence he can be. Farrell is the screenwriter, Rockwell is the best friend, trying to give his blocked mate some — mostly terrible — ideas. Rockwell makes his living kidnapping dogs so that partner Walken can return them and claim the reward. But then they kidnap the wrong mutt and Harrelson's mob justice descends. I was particularly taken with the LA-ness of all this.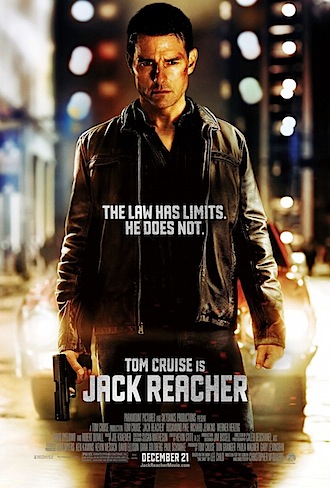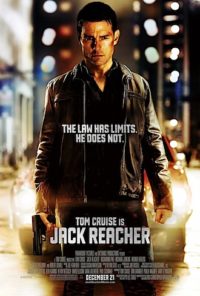 In closing, Tom Cruise's franchise-starter Jack Reacher is the film that Alex Cross could've been if it was, you know, competent. It's still not very good but at least has some invention — a couple of the fight scenes, for example, and the weirdly commanding presence of the great Werner Herzog as the villain.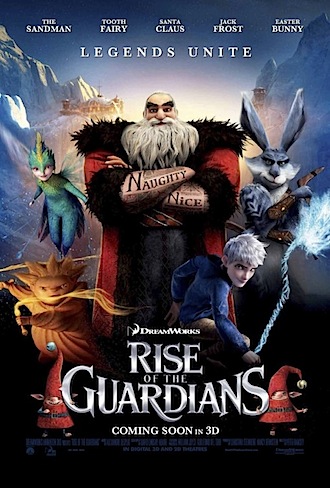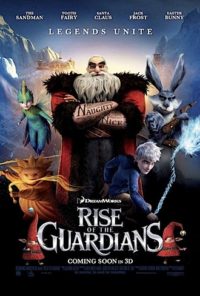 Animated Rise of the Guardians suffers from being downright ugly — the look of the thing just doesn't work for me and I couldn't help noticing that there simply weren't any kids at the public screening I was at.
Dustin Hoffman's directorial debut is the surprisingly conventional Quartet, about a residential home for retired musicians that is falling on hard times.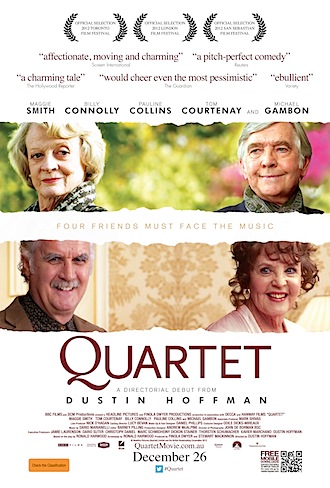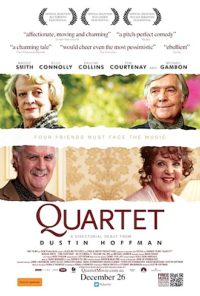 The annual charity gala needs a big draw and new arrival Maggie Smith is a fomer diva who might fit the bill. The themes of ageing and the loss of your powers might well resonate with 75 year old Mr Hoffman but his execution of Ronald Harwood's script feels like television to me.
Printed in Wellington's Capital Times on Wednesday 16 January, 2013.