It's been a weekend made for movie watching with cinemas across the city groaning under the weight of patrons escaping the filthy weather. It's been so busy, in fact, that I failed to get in to either screening of The Last Station that I tried to attend — sold out at the Lighthouse and the Penthouse. Obviously, I should know better than to not book in advance on a holiday weekend but it means that I'm one down on the reviews I planned to offer you this week.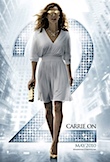 Instead of Tolstoy and his Russian cultural legacy, then, we kick-off with Sex and the City 2, a film that already has had some notoriously vicious reviews, and it deserves every single bit of vitriol the world can throw at it. SATC2 is an artifact of pure evil, a hate crime disguised as a puppy. I thought that the first film was pointless and dumb, but didn't realise how offensive and pernicious the values on display actually are. There's not a character in this film that isn't a narcissistic whiner, stuck in their privileged little bubble, willfully ignorant of anything other than themselves and the fantasy world they live in.
But there's also a story and I suppose you should get an idea of what it is (for the sake of brevity I'll assume you are familiar with either the original tv show or the previous film). After two years of marriage with Big (Chris Noth), Carrie (Sarah Jessica Parker) is worried that they are turning into a boring stay-at-home married couple because he wants to stay at home and watch tv instead of walk the red carpet at a movie premiere — on a Monday! To help Carrie get over this tragic turn of events (and the other girls get over their problems with, you know, nannies and hard jobs with bosses who are beastly), sex queen Samantha (Kim Cattrall) scores a free trip to Abu Dhabi where they can blithely express their ignorance of other societies as well as their own in ways that get more and more breathtakingly appalling as the film goes on.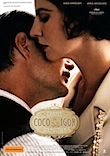 Another romance that suffers terribly from unappealing characters is the art-house mini-biography Coco & Igor, about the post WWI affair between Coco Chanel and composer Igor Stravinsky. This relationship appears to have had no effect on the work of either person, lasted less than a summer and done irreparable damage to Stravinsky's family (which the film seems to write off as no more than collateral damage).
Chanel (Anna Mouglalis) was on the rebound from he death of her English lover Boy (the great love of her life if you believe the earlier Audrey Tautou film) and Stravinsky (Mads Mikkelsen) was on the rebound from a terrible response to his ground-breaking new work, The Rite of Spring, and the Russian Revolution. Chanel fancies him and sees a kindred spirit in his vision of a new modern music. After offering him and his tubercular wife her home in the country, they commence a brief affair that seems almost 100% physical, she invents Chanel No. 5, he drinks too much and the wife takes off with the kids.
As you would expect, the clothes and the interiors are sumptuous — far more to my taste than the gaudy pap in SATC2 — but the film itself is cold and the story doesn't go anywhere. It is worth watching for an extended recreation of the famous Paris premiere of The Rite of Spring in 1913 — that section I really enjoyed.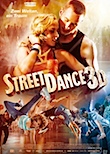 Finally, this week a new 3D extravaganza — this time from the BBC. StreetDance 3D is a film that (were it not in 3D) would be right at home on tv at about 4 'o' clock on a weekday afternoon. Indeed, the "crew" of street dancers were so juvenile I wouldn't have been surprised if they had all gone home to live together in a double-decker bus. Carly's Crew has made it to the National Street Dance championships but they don't have studio to rehearse in. When Carly (Nichola Burley) tries to blag her way in to use the National Ballet School, visionary ballet mistress Charlotte Rampling (yes, "the" Charlotte Rampling) sees a way to breathe new passion into her stuck-up dancers and suggests a merger.
Of course, they start off hating each other and then come to an understanding — a romantic understanding in a few cases — and this wonderful new mix of ballet and hip-hop blows the roof off the champs at the very last minute.
I can't speak to the dancing — this sort of thing does nothing for me and it never has — and apart from Ramples the acting is just terrible, but somehow I found myself not hating this.
Printed in Wellington's Capital Times on Wednesday 9 June, 2010.