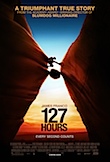 Danny Boyle's Slumdog Millionaire was my film of the year for 2009 — a potent and punchy roller-coaster ride of a film that made everything for months afterwards seem quaintly old-fashioned. His new film, 127 Hours, doesn't break the mould to quite the same degree but does feature similar stylistic effects: messing with time and structure, split-screens, domineering soundtrack, etc.
The new film is also an adaptation of previously existing material, Aron Ralston's memoir "Between a Rock and a Hard Place", and once again Boyle has collaborated with screenwriter Simon Beaufoy (notorious in New Zealand for The Full Monty). Ralston (played by James Franco) was an engineer by trade but an outdoorsman by inclination and he loved to roam the Utah canyons on bike and on foot. In 2003 he fall into a narrow ravine and his right arm was trapped by a boulder. He was there for five days before realising that the only way he was going to walk out was if he left the arm behind.
There were several moments on Friday night where fellow audience members were forced to look away — unnecessarily it turns out as the most gory moments are hinted at rather than shown and Glenn Freemantle's sound design does more than enough to let you know what's going on between the dull knife and Ralston's flesh — but it's Ralston's psychological journey that's most important.
While I was impressed by the beautiful Utah visuals (and Franco's energetic and committed performance) this time around I wasn't convinced that Boyle's cinematic fireworks were entirely appropriate for the story he was trying to tell. A good, interesting, worthwhile (and at the Embassy very noisy) film.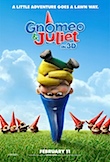 Astonishingly, it took no less than ten credited writers to produce the finished script for Gnomeo & Juliet — not least original playwright William Shakespeare who probably should have a word with his agent. Two feuding families of gnomes live side by side in suburban Stratford-upon-Avon. Like the toys in Toy Story they only come to life when their humans aren't looking but unlike Toy Story the voices are drawn from British film and television culture: venerable Michael Caine, Maggie Smith and Patrick Stewart alongside britcom stalwarts Matt Lucas and Stephen Merchant plus complete non sequiturs like Dolly Parton, Hulk Hogan and Ozzy Osbourne.
You have to admire it's campy commitment (every scene a different Elton John song!) but I found its relentless verbal and visual punning exhausting rather than entertaining.
In the 22 years between When Harry Met Sally and No Strings Attached we've gone from "men and women who are attracted to each other can't be friends" to "men and women who have sex with each other can't be friends" and there you have the decline of Western civilisation in a nutshell. Natalie Portman and Ashton Kutcher are two attractive young people trying to have a simple sex-only relationship in present day Los Angeles. Of course, this is a Valentine's Day rom-com so there has to be the usual quota of meet-cutes, wacky roommates, embarrassing exes, etc., as well as a last minute dash across town to prevent a disastrous … you get the picture.
Director Ivan Reitman has nothing to prove after Ghostbusters but that doesn't mean he shouldn't even try — gags fall flat and everyone's timing is slightly off. No Strings Attached attempts the same sort of sexual frankness as last year's Love and Other Drugs but is disappointingly coy about nudity which seems a bit hypocritical really.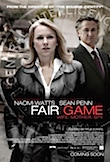 In Fair Game, Sean Penn and Naomi Watts play real life couple Joe Wilson and Valerie Plame, who were almost destroyed by the Bush Administration in political retaliation after Wilson revealed one of the President's bigger lies in the lead-up to the Iraq War. Plame was a highly regarded CIA operative — so far undercover that only Wilson and her parents knew what she did for a living. Wilson was a former Ambassador for the Clinton administration and no friend to the neo-cons who were determined to re-make the Middle East to their own dubious specifications.
Essentially a cinematic version of an extended Vanity Fair article, Fair Game depressingly reminds us how evil that mob of cretins were and how dark those times. Director Doug Liman (Mr. and Mrs. Smith) operates his own camera and can't seem to keep it still but everything else about the film is more than acceptable, particularly screenwriter Jez Butterworth's insistence on treating his audience like reasonably well informed adults.
Interestingly, the print of Fair Game at Readings was the poorest I've seen commercially in Wellington in nearly three years while the digital presentation of 127 Hours at the Embassy was simply stunning. That's no reflection on Readings who maintain consistently high presentation standards but they can only work with what they've got — dirt, scratches, flicker and digital sound drop-outs all marred a film that deserved better.
Printed in Wellington's Capital Times on Wednesday 16 February, 2011.