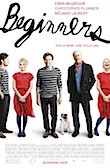 I really don't want much. It's simple. All I ask is for someone with talent to take some of their life experience and merge it with that talent in the hope that the resulting work of art might help illuminate some aspect of my life. That's all. And yet it rarely happens. Which means I'm very grateful that with Beginners, Mike Mills has done exactly that and produced a terrific film that is intensely personal — both to him and to me.
Ewan McGregor plays a gloomy Los Angelean illustrator: lonesome, introspective, self-sabotaging; all lessons learnt growing up an only child in a household where his father was a closeted gay and his mother lived a constrained and lonely life of imagination. When she dies of cancer, McGregor's father (Christopher Plummer) is freed from the bonds of marriage, comes out at the age of 75 and throws himself whole-heartedly into the the LA gay scene — including posting revealing personal ads and starting a relationship with a budding pyrotechnician named Andy (Goran Visnjic). And then he gets cancer.
McGregor, meanwhile, is telling this story in flashback, several months after his father's death, at the same time as he's wrestling with a potentially perfect new relationship with a beautiful French actress (Mélanie Laurent) and working out if he can avoid wrecking it like he did the others.
That's rather more plot than I normallly worry about revealing here but it's not a plot-ty film, though, it's a character study and the two guys are as coherent, believable and well-rounded as anybody written in recent cinema. Laurent's Anna is slightly less so but that's the only flaw in a film that I found to be moving, profound, witty and humane.
Mills directs his own superb script with deftness, allowing (in fact probably insisting on) his key line in the whole film to be almost swallowed: "He didn't give up." That's it. It's what the film is about and what the previous 100 minutes have been leading up to. Every moment is important and every scene and every line connects with each other to construct a wonderfully satisfying whole.
McGregor has seemed a bit lost in recent years — since that Star Wars sojourn perhaps — but here he delivers on all that early promise and reminds us what he was all about. And Plummer, who enriches every film he appears in, is simply transcendent in this. I wholeheartedly recommend Beginners and look forward to adding it to my personal collection when the home version is available. It's a keeper.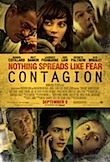 Steven Soderbergh's more personal works don't often get released to cinemas here. He announced himself back in 1989 with Sex, Lies and Videotape and for a while alternated his more commercial films such as Oceans Eleven with experimental work like Bubble and The Girlfriend Experience. Last year's The Informant! starring Matt Damon was a brilliant mix of the two and was therefore released but buried but by a perplexed distributor.
Contagion sits squarely on the commercial side of Soderbergh's register. It's a pacy, ensemble, disaster movie about a SARS-type virus mutating it's way from bats to pigs to humans in a matter of days and then spreading so fast that no agency can prevent the deaths of millions. Soderbergh (working from a script by Scott Z. Burns and photographing the film himself under his usual pseudonym Peter Andrews) is at his capable best but you'd never call this the work of an auteur.
Deeply cynical about human motivations and resilience in a world that can turn on us in a heartbeat, Contagion is perhaps not the best film to watch when you're feeling a bit peaky.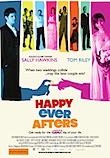 Happy Ever Afters may well be the worst film I have ever seen during 25 years of visiting the Paramount. An Irish wedding rom-com (the most dismal kind) starring Sally fidget-Hawkins as a single mother who marries an African man so he won't be deported. Meanwhile, at the same hotel, Tom Riley is celebrating marrying his neurotic and depressed wife (Jade Yourell) for the second time. The two receptions collide and nothing so much as a single joke ensues.
The Paramount has always been better known (and cherished) for films like Last Train Home and Eco-Pirate, the kind of documentaries that the mainstream (and even the mainstream arthouses) won't play. Both of the above titles have arrived at the Paramount in the same week, both produced in Canada, both with plenty of interest.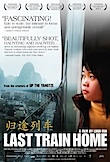 Last Train Home is the better of the two films, a disturbing and and quietly powerful portrait of the Chinese migrant fatory workers who keep their economy going. The title refers to the one chance that these 130 million people getto return to visit family — every year for Chinese New Year. Director Lixin Fan made the brilliant Up the Yangtze a couple of years ago and he specialises in showing us the inter-generational conflicts that are bubbling up under the surface of modern China.
Parents like Changhua Zhan and Suqin Chen have worked in clothing factories thousands of miles from their families for over 15 years but will happily tell the camera how much harder it was in the old days. But the kids who have been neglected — and told once a year to do better in school and thus avoid their parents' fate — aren't buying it.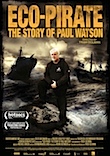 Paul Watson is a Canadian ecological activist who professes not to be interested in people or their welfare — we're a lost cause he believes. He goes to sea in his black ship — with razor blades welded to the sides — to defend the whales, the dolphines, the fish and the sea itself. Not everyone is going to agree with his methods and not everyone is going to get something out of Trish Dolman's film (Eco-Pirate: the Story of Paul Watson) but if you have an interest in the topic you'll find it a fairly even-handed portrait of a difficult man.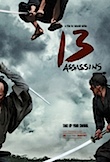 Just briefly, an enthusiastic endorsement of 13 Assassins, Takashi Miike's brilliant Samurai action western that's playing late shows at selected (i.e not many) cinemas. It's the absolute epitome of a great big screen experience — vivid and exciting — and in Lord Naritsugu (Gorô Inagaki) it may feature the most evil character ever committed to film.
An edited version of this review appeared in Wellington's Capital Times on Wednesday 16 November, 2011.