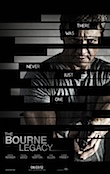 In The Bourne Legacy, Matt Damon's amnesiac super-soldier Jason Bourne is a shadowy figure, looming invisibly over a plot that for contractual reasons can't accommodate him. It's as if he's in the sin bin — after a yellow card for demanding director approval — watching the clock tick down until he can take the field again.
The director that Damon objected to is Tony Gilroy — co-writer of all the Bournes and writer-director of Michael Clayton — and next time someone should listen to Damon's instincts. He said he wouldn't do another Bourne without Paul Greengrass (director of the last two, Supremacy and Ultimatum) and the weird compromise concocted by Gilroy to keep the franchise alive will probably only satisfy the studio and the Robert Ludlum estate. Bourne is on life support but no more than that.
The plot of The Bourne Legacy runs roughly parallel with the last of the Damon films. As Bourne is attacking the sinister government forces who turned him into a ruthless killing machine, the state in turn is trying deperately to shut down the programme and destroy the evidence. One of those bits of evidence is Aaron Cross (Jeremy Renner) who escapes an attempt on his life in Alaska and goes searching for the source of the drugs that made him so strong. His journey — with the help of scientist Rachel Weisz — is cross-cut with some of America's finest actors surrounded by satellite imagery on big screens saying things like "How could that happen?" and "I don't know!"
Perennial second-banana Renner shows leading man potential for the first time but unlike Greengrass, Gilroy is no great shakes as a director of action so — combined with the purposeless plot — the result is the first tedious Bourne movie — The Bored Legacy.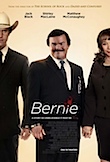 Richard Linklater's Bernie is the funniest and warmest slice of American small-town life since Waiting for Guffman. Carthage is in relatively civilised east Texas — that distinction being made by a helpful local in one of the many real and mock interview segments — and likes to think of itself as the small town's small town. The people are gracious, generous, decent and respectful and when Bernie Tiede II (Jack Black) moves to town as assistant director of the local funeral home he fits right in. He's all of those things to a fault.
When grumpy local widow Marjorie Nugent (Shirley MacLaine) takes so much advantage of Bernie's generosity that he shoots her in the back and dumps her in a freezer, the community basically refuses to convict him and ambitious local DA Matthew McConaughey has to try the case in a different county.
Based on a true story — and featuring many of the local characters playing themselves — Bernie is about a murderer with a heart of gold and the film is pretty sympathetic to its homicidal central character, helped by Black's lovely turn in the lead. MacLaine is always a pleasure to watch on screen and McConaughey proves once again that he's been wasting a fine — if strange — talent on disposable rubbish over the last few years.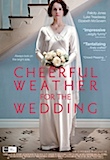 Cheerful Weather for the Wedding is a Sunday Theatre episode transferred to the big screen because we don't really have Sunday Theatre on TV anymore. Adapted from a 1932 Bloomsbury novel by Julia Strachey, it's only in the final quarter — when things start to get a bit more spicy — that the film only threatens to transcend the trappings of boring old country house costume drama. You may have lost interest by then. Current pouty British cinema "it" girl Felicity Jones (Like Crazy) plays betrothed Dolly, having severe rum-fuelled doubts on her wedding day. Rose-tinted flashbacks to the previous summer help fill in the gaps and explain her quandary.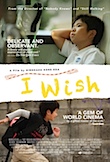 If the arthouse is where you want to go to escape the wind and rain, choose I Wish by brilliant Japanese director Hirokazu Koreeda. He made Nobody Knows in 2004, about a young family trying to cope when they are suddenly abandoned by their mother. In 2008, he gave us Still Walking about adult children and elderly parents. I Wish is back in the world of children as two young brothers, in different cities thanks to their parents' separation, attempt to reunite the family by wishing on the miraculous new bullet trains as they pass each other at top speed.
Wonderfully realised, with unassailable performances from all the children, I Wish is very special indeed. To a child, everything has the potential for magic but there's a growing up moment we all go through when you realise that some broken things stay broken. It's this transition that is brought to life so beautifully by Koreeda and his young cast and I found myself thinking a bit about my own childhood as a result.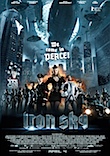 Finally, Iron Sky is a brilliant idea stretched to breaking point and beyond. A bizarre Finnish-German-Australian co-production imagining a colony of Nazis surviving for more than 70 years on the dark side of the moon who then return home with a fleet of spaceships to finish off World War II once and for all. It's also a mostly thudding satire of contemporary politics and society, with a few genuine laughs along the the way. Unfortunately, it feels the need to keep reminding you of the zaniness of its central conceit, and the combination of the steampunk design and jokes about Sarah Palin make the film feel more like 2008 rather than 2012.
Printed in Wellington's Capital Times on Wednesday 22 August, 2012.