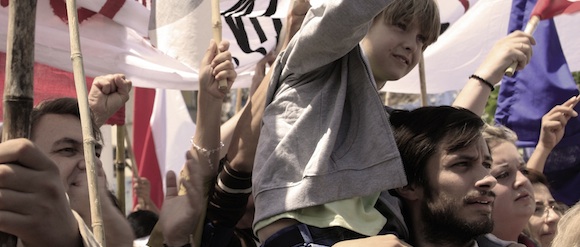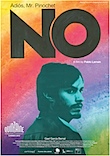 No sounds like the kind of thing a tod­dler in the middle of a tan­trum might say, while stomp­ing around your lounge room at bed­time. At the cinema, though, the tan­trum belongs to the cor­rupt dic­tat­or­ship of Chile's Augusto Pinochet, forced through inter­na­tion­al pres­sure to let oth­ers play in his sand­pit. In 1988 he announced a ref­er­en­dum that would demon­strate – by fair means or foul – that the people loved him, weren't inter­ested in demo­cracy and that those who thought dif­fer­ent were noth­ing but com­mun­ists and terrorists.
15 years after he and his mil­it­ary junta over­threw the legit­im­ate left-leaning gov­ern­ment of Salvador Allende, the ques­tion in the ref­er­en­dum would be a simple one: "Yes" to keep the dic­tat­or­ship and "No" for a return to free elec­tions. No, Pablo Larraín's bril­liant movie, looks at the cam­paign from the per­spect­ive of an ad guy – a Mad Man – played by Gael García Bernal, who har­nessed the latest cor­por­ate sales tech­niques and the power of tele­vi­sion to change the dir­ec­tion of a nation.
Larrain and cine­ma­to­graph­er Sergio Armstrong have made the geni­us decision to shoot the film on the same tech­no­logy that the prot­ag­on­ists had avail­able to them then – Sony's U‑matic pro­fes­sion­al ver­sion of the Betamax video tech­no­logy. The film has low-res video grain, bold and badly registered col­ours and – most won­der­fully – the habit of com­pletely wash­ing out in bright light. Windows and skies look other-wordly and it's not counter-intuitive to sug­gest that this is the most beau­ti­ful film I've seen this year.
No will also be of interest to those on the left of NZ polit­ics who want to know why it is that more energy goes into interne­cine strife than into, y'know, fight­ing the enemy. The NO cam­paign is a loose coali­tion of nearly 20 dif­fer­ent Pinochet oppos­i­tion parties from all points on the spec­trum. Many believe that the ref­er­en­dum is a fraud (with good reas­on) and that the 15 minutes of free tele­vi­sion time each night for a month should be spent hon­our­ing the dis­ap­peared and reveal­ing the truth.
Bernal's geni­us is to have the cam­paign rise above the misery, the fear, the anger and the resent­ment and become an inclus­ive, pos­it­ive, uplift­ing state­ment about poten­tial and about the future. The No cam­paign suc­ceeded because it put its arms around the coun­try and gave it a big hug – the Yes people had no answer, just neg­at­iv­ity. He still loved his mimes, though, bey­ond all good taste.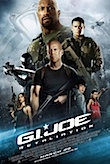 G.I. Joe: Retaliation is more of a reboot than a sequel to the 2009 Hasbro toy empire fran­chise killer, The Rise of Cobra. Of the prin­cipals, only Channing Tatum is around from the last one to hand over the keys, so to speak, to the ever-amiable Dwayne Johnson. Direction this time is from an inter­est­ing choice, John M. Chu who is best known for dance movies Step Up 3 and the Justin Bieber movie mean­ing that, at the very least, it's got rhythm. Smartest move on the part of Hasbro, though, was to get Zombeland writers Rhett Reese and Paul Wernick on board and the film has plenty of know­ing wit – Bruce Willis as out-of-retirement General Colton looks like he's enjoy­ing this a lot more than the last Die Hard.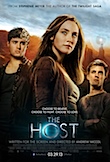 I bet Andrew Niccol was told that The Host was a sci­ence fic­tion movie before he signed on to write and dir­ect this adapt­a­tion of anoth­er nov­el by Stephenie (Twilight) Meyer. After all, he loves him some sci­ence fic­tion does the NZ writer-director (Gattaca , S1m0ne, In Time). Sadly for him, The Host is really just anoth­er teen will they-won't they romance fea­tur­ing a young girl (Saoirse Ronan) torn between two hand­some and devoted suit­ors. The twist is that the girl's body has been inhab­ited by an ali­en (metaphor-alert) and that her human and ali­en per­son­al­it­ies are fight­ing it out via voiceover.
Ronan's char­ac­ter has escaped from the alien-occupied city and found a hideout full of humans (led by Wiliam Hurt) but "Seeker" Diane Kruger is on her tail. Human-Ronan loves Jared. Alien-Ronan loves Ian. OMG, who will she choose? Fans of Twilight might appre­ci­ate all this but nor­mal cit­izens like myself will won­der why all that star­ing and pout­ing has to go on for quite so long. It's not a career-killer for the blos­som­ing Ronan, though. She's def­in­itely going places.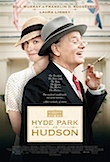 Not going any­where but pleas­antly is Hyde Park on Hudson, rid­ing on the coat­tails of The King's Speech as stam­mer­ing Bertie (Samuel West) arrives in America with Queen Elizabeth (Olivia Colman) to per­suade Roosevelt to sup­port them in WWII. Roosevelt is played with delight­ful under­state­ment by Bill Murray. Laura Linney plays his cous­in, enlis­ted to provide com­pany and com­fort while FDR was strug­gling with the pres­sures of power.
Printed in Wellington's Capital Times on Wednesday 3 April, 2013.