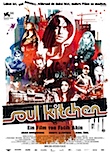 Turkish-German director Fatih Akin has long been an arthouse favourite around these parts. Head-On (2004) and The Edge of Heaven (2007) were Festival successes so it was odd to see his new film Soul Kitchen skip this year's event and go straight to general release. On viewing it's easy to see why. Akin has gone commercial and Soul Kitchen is as broad a comedy as you'll find outside the big chains — sadly I have to report that Akin's film doesn't sit comfortably in that territory.
Zinos (Adam Bousdoukos) runs a greasy spoon café called the Soul Kitchen in a rundown part of old Hamburg. He's not much of a cook or a businessman but his loyal customers seem to like it. Thrown into a tizzy by a combination of his girlfriend's move to China, a very bad back, the tax department, his deadbeat brother (Moritz Bleibtreu) on day release from prison and an old school friend with an eye on his real estate, Zinos tries to navigate his way through a rapidly deteriorating situation with only a genius new chef and some loyal but easily distracted staff.
The problem here is that when the comedy gets close to Benny Hill territory (as it often does) the arse falls out of it but when Akin stays in the gritty, urban, Loach-like world of the Hamburg underclass he's got a really likeable and honest film going on. Bleibtreu lights up the screen every time he appears (you'll know his face from great performances in The Baader Meinhof Complex , Das Esperiment and Run Lola Run) and lead Bousdoukos is an appealing character destined to be replaced by Eric Bana if and when Hollywood decide to remake it.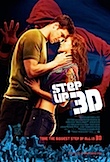 New Zealand audiences eat up dance films which is why there's another Step Up flick in cinemas right now. This one is Step Up 3 and features the worst 3D I've yet come across — all of the actors seem like paper thin cut-outs walking across the screen in front and behind each other. The only thing this film has in common with the previous Step Ups is the character of Moose (Adam G. Sevani), who was a subsidiary character in number 2 and now gets to annoy even more people as one of the leads in this one.
This is the worst acted film I've seen in a long time but the dancing has its moments. The finale takes place at one of those "World Championships" that only features teams from one city and there's obviously no acknowledgment that the actual World Champion hip-hop dance crew is from New Zealand. I'm also sad to report that handsome hero Luke (Rick Malambri) required no less than three different credited dance doubles so who knows what else was faked to generate the excitement.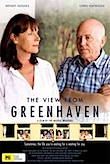 If you enjoyed little kiwi battler Second Hand Wedding (and pretty much everybody did), you'll get some pleasure out of The View from Greenhaven, a low budget Aussie picture that shares with it an aesthetic and some understated characterisation. Grumpy old man Chris Haywood rarely comes out of his shed but is forced to go on a mystery train tour of NSW when his long-suffering wife (Wendy Hughes) threatens to leave him. When the train drops them both off at their idyllic own home town of Greenhaven, he is forced to take a long hard look at what he's actually got going for him.

In January last year Neil Finn opened his address book and gathered another bunch of rock mates for a repeat of his excellent 7 Worlds Collide project from 2001. This time the idea was to record an album of new material rather than just play some gigs and adding Wilco to the familiar faces of Johnny Marr, the two guys from Radiohead and Lisa Germano adds some welcome Americana flavour. Simon Mark-Brown shot a documentary to record proceedings and the result is screening at the Paramount as The Sun Came Out. Sadly for music and film fans it seems like the album was much more fun to record than to actually listen to but there are some nice moments and the affection all the participants obviously feel for each other is palpable. It's not the Rolling Thunder Review but you take what you can get these days, I guess.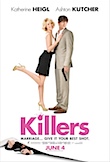 Ashton Kutcher and Katherine Heigl's new "comedy" Killers isn't as dismal as Cruise and Diaz's similar Knight and Day (still stinking up cinemas several weeks after release) and it isn't as ghastly as the last time Heigl was directed by Robert Luketic (The Ugly Truth which I couldn't sit through).
Neither of these are reasons to actually go and see it however. Kutcher is a buff Government hitman trying to get out of the game. Heigl is her usual insufferable tightly wound career woman. They meet in Nice where she is on holiday and he is working. They inexplicably fall in love, he retires from his secret killing people job and they return to Small Town USA where, three years later, everyone in their neighbourhood starts to try and kill them. There's nice work from the rarely seen on the big screen Tom Selleck as Heigl's father and the great Catherine O'Hara is wasted (literally) as her alcoholic mother — which is supposed to be funny I think.
Finally, a quick recommendation for film buffs who love to see the greats on the big screen. The Embassy is expanding it's classic screenings programme (which has already featured The Wizard of Oz, Ghostbusters and, um, Top Gun) to even greater heights with regular Sunday afternoon screenings of films directed by some of the biggest names in cinema: Welles, Fellini, Visconti, Melville, Malick and Michael Powell. The season kinks off with three wonderful Fred Astaire and Ginger Rogers films: Top Hat this weekend, The Gay Divorcee and Shall We Dance.
Printed in Wellington's Capital Times on Wednesday 11 August, 2010.