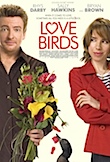 Following the surprise success of Second Hand Wedding in 2008, screenwriter Nick Ward and director Paul Murphy have been given a vastly improved budget and access to two international stars and told to make lightning strike twice.
The stars of Love Birds just happen to be the two fussiest actors in the world, Sally Hawkins (Golden Globe winner for Mike Leigh's Happy-Go-Lucky) and TV comic Rhys Darby, and when the two of them start fidgeting and stammering it feels like you are in for a long night. Luckily, both have their still-er moments and at those times you can see that Darby has real potential as a big screen romantic lead.
He plays 'ordinary kiwi joker' Doug who finds an injured duck on his roof and eventually bonds with the bird thanks to vet (and balloonist) Bryan Brown and Auckland Zoo exotic bird keeper Hawkins. As rom-coms go, the romance mostly works but the comedy doesn't. Ward has written too many laboured semi-jokes and not enough zingers and Murphy doesn't have the comedy chops to rescue the situation.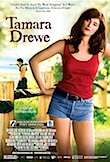 Recommended this week is Tamara Drewe, directed by Stephen Frears and based on a Guardian comic strip by Posy Simmonds, which itself was inspired by Thomas Hardy's Far From the Madding Crowd. Drewe (Gemma Arterton) is a successful newspaper columnist returning to her home village in the Wessex countryside, site of childhood humiliations and the beginning of her reinvention as a media queen and sexpot.
Also, in the village are a mixed bag of characters, gently satirising the English comfortable classes: Roger Allam plays a womanising crime novelist; Tamsin Greig ("Black Books") his long-suffering wife who hosts writers' retreats at their not-quite-self-sufficient farm; little-known but excellent Bill Camp plays an American academic whose feelings for Greig unblock his long and tortured Hardy biography; Dominic Cooper (The History Boys) is an oafish rock star whose presence in the village catalyses all sorts of problems not least for two swooning schoolgirls (Jessica Barden and Charlotte Christie) who see him as a chance to escape the village — unfortunately beautiful Tamara stands in their way.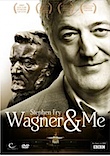 In Wagner & Me, the great televisual communicator of our age, Stephen Fry, travels Europe to try and explain to us why Richard Wagner is important and asks the question, why should a Jew (or any of us really) still care about the great composer when his work and philosophy was so comprehensively hijacked by the Nazis?
I don't know if I was totally persuaded by the art (although I am resolved to try at least one full length Wagner in the next Met Opera HD season up at the Penthouse) but Fry's obvious passion for the music and his conflicted feelings (sitting on the steps at the site of the Nuremberg Rallies for example) are presented effectively enough.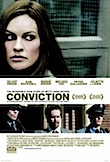 When Hilary Swank won her Oscar for Million Dollar Baby in 2004 she appears to have resolved to use her new found power to get films made for good: not just to be good (i.e. act well in them) but to make herself look good by playing good people. Since then she has been a dedicated high school teacher helping inner city kids read by teaching them about the Holocaust; a widow being helped though her grief by the ghost of Gerard Butler and the literally self-sacrificing pioneer air-heroine Amelia Earhart.
This week in Conviction she takes it up a notch by playing Betty Anne Waters, a woman so convinced of her brother's innocence that she puts herself though law school in order to prove it. The brother (Sam Rockwell) is a manic depressive with asshole tendencies who has been set up by the local fuzz to take the fall for an unsolved brutal murder. It takes 18 years to get him out, and Waters' dedication to the cause is remarkable and deserving of recognition, but the film insists on telling you exactly what to think throughout. Disappointing.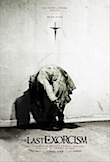 And also in the also-rans department for this week, The Last Exorcism is a horror film from the same stable that brought us the objectionable Hostel films. It turns out to be a little more interesting than I expected as the central character is a small town preacher (ably played by Patrick Fabian) who is having a crisis of faith but has to continue performing these exorcisms for financial reasons — it's a living.
His conscience finally gets the better of him and he invites a film crew to follow along on one last job so he can expose the tricks of the exorcism trade — how he and others like him hoodwink the gullible rubes of the Bible Belt using cheap conjuring tricks and pop psychology. Of course there might actually be something going on this time… Not really my taste it must be said, but not a tragic waste of time.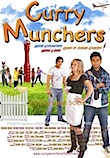 Unlike Curry Munchers, an Auckland-made romantic comedy about a handsome young Indian immigrant (Aunanda Naaido) who gets a part-time job in a floundering restaurant and discovers a talent for cooking that might just win them a prize and him the love of waitress (and Shortland Street-er) Alison Titulaer. Indo-Kiwi comics Rajeev Varma and Tarun Mohanbai (Those Indian Guys) are sporadically funny as kitchen fools but they seem to have stepped out of a different film — one that isn't as drastically inept as Curry Munchers.
Printed in Wellington's Capital Times on Wednesday 2 March, 2011.
Second thoughts on Wagner & Me: If you are at all interested in theatre and theatrical staging you shouldn't miss it for the sequences in St Petersburg and Bayreuth — huge productions featuring dozens of stage hands. We're just pissing about here in NZ, aren't we?