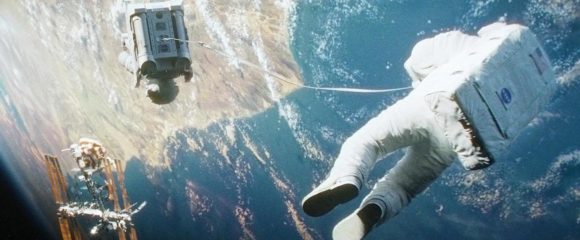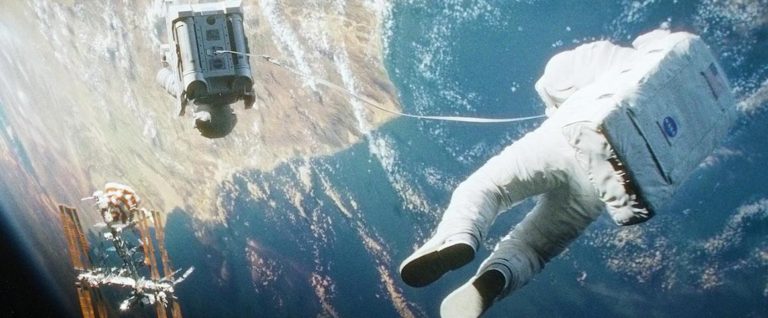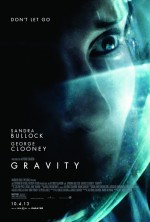 Is Gravity the first really new film of the 21st Century? I hazard it may be. It is certainly the first to harness the bleeding edge of the current technologies (performance capture, 3D, sophisticated robotic camera rigs) to serve a story that could only really exist in this form. Sure, once his ears had stopped bleeding Georges Meliés would totally recognise what director Alfonso Cuarón and his screenwriter partner (and son) Jonás are doing here, but he would be the first to put his hand up to say that he wouldn't have been able to do it. Same for Kubrick, I suspect.
During a routine shuttle mission high above the Earth, astronauts Sandy Bullock and George Clooney are struggling to make some adjustments to the Hubble telescope when Houston (a nicely cast Ed Harris) warns them of some incoming debris. A Russian spy satellite has been destroyed by its owners causing a chain reaction as the little buggers kick-off all over the place. Tiny fragments of satellite travel at lethal speeds on roughly the same orbit and our heroes have to get to safety before they risk being vaporised.
Which they don't manage – that's roughly the first ten minutes. The rest of the film is them trying to get back home with no shuttle, no ISS and no NASA, just the two of them floating hundreds of miles above a docile looking planet and the promise of a Russian (or maybe a Chinese) ship that can get them home.
What Cuarón has managed here – through a combination of exquisite sound design, near-perfect VFX and his trademark long, fluid takes – is to make you believe. The debates about the science have been going back and forth for a while but the film feels authentic which is the most important thing, right? A simple story, made to look simple with the aid of about a hundred million dollars, Gravity is a new benchmark for cinema entertainment.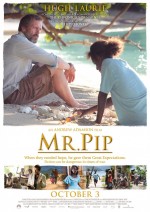 Andrew Adamson's Mr. Pip, is much more earthbound. In a remote Bougainville village, isolated by a rebellion over self-determination and mineral rights, the only remaining white man (Hugh Laurie) is prevailed upon to teach the village children. The only tools at his command appear to be a gentle and unassuming nature and a copy of Dickens' Great Expectations which he reads to the class every day.
The horrors of war can't be held at bay for long, though, and Laurie's sharpest pupil, Matilda (Xzannjah Matsi) and her family are caught up in the violence and retribution – with only the mild-mannered teacher and his book for protection. I suspect this is actually two films – one for people who read Lloyd Jones' book and one for those of who haven't. Not better or worse, just different. I was taken by surprise by the turns the story took, confronting turns for sure but ultimately necessary. Adamson has crafted the story so that it provides legitimate emotional heft rather than the manipulated heart-string tugging we usually get and Laurie is just brilliant, constantly dialling down and making us look more closely.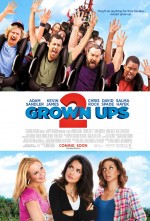 For persistent crimes against cinema, humour and – possibly even humanity itself – Dennis Dugan , j'accuse! A jobbing actor in Hollywood since the early '70s, Dugan turned to directing with the dumb comedy Problem Child in 1990 and has been specialising in fart jokes and juvenile comedy ever since. In 1996 he hitched his talent-free wagon to hot young comic Adam Sandler with Happy Gilmore and the two of them have been all-but inseparable ever since.
Big Daddy, You Don't Mess With the Zohan, I Now Pronounce You Chuck & Larry, Grown Ups, Just Go With It and Jack and Jill are the result of their teamwork (and when he can't work with Sandler he'll even stoop to Rob Schneider) but the new low in their relationship is the unfeasibly lazy Grown Ups 2 which looks as if no one can be bothered to so much as keep the camera straight on the tripod. The fact that this man has a successful career in Hollywood only confirms that there truly is no God.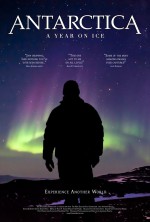 Evidence in support of a deity's presence can be found in abundance in Anthony Powell's stupendous feat of homemade filmmaking Antarctica: A Year on Ice. The screening I attended at the New Zealand Film Festival was transcendent and I'm thrilled to report that selected cinemas are now playing it. Awe-inspiring, jaw-dropping.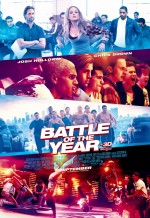 I didn't have to get too far behind on these reviews (for which I am in a continuous state of abject apology, by the way) for Battle of the Year 3D to have disappeared from screens. In case you are ever tempted to pick it up at your local video store* I can advise you that on a scientific 3D-dance-battle-movie scale it rates somewhere between StreetDance 3D (the cockerknee one) and Step Up 4 (the "Occupy Miami" one). A drunk basketball coach (and former hip-hop dancer) is brought out of retirement to coach a US "dream team" of dancers at the World Champs in France, Europe. The sports-movie clichés come thick and fast, the acting is nothing to write home about (even from the supposedly 'proper' actors) but the final routines play out just fine – that's what people are there for anyway.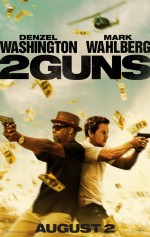 Finally, also already gone to that great video-on-demand website in the sky, 2 Guns reunites Mark Wahlberg with director Baltasar Kormakúr who made the snoozy Contraband for him back in 2012. It also features Denzel Washington whose charisma stirs a little bit of effort from Wahlberg in a buddy action flick reminiscent of 80s classics like Lethal Weapon and 48 Hours. Kormakúr can make very cool films when he's working in his native Iceland but is taking time to find his voice in Hollywood. 2 Guns is a step in the right direction for him, even if it's just another day at the office for Wahlberg and Washington.
*Ed's note: Younger readers should ask their parents the meaning of the term "local video store".